BLACK FRIDAY
2022 
IS HERE! SAVE 50% WITH COUPON BF22
You've got an amazing documentary idea and if you could just get someone to write you a check for $250,000 or $1-million you could make a film that would rock the world.
That's what you're thinking. I know it is!
How many worthy films never get made because the filmmaker simply didn't know the "rules of engagement" when it comes to raising money.
One of those simple rules is an ACCURATE BUDGET. Without it, you can kiss your funding dreams goodbye.
If your documentary project requires cash, you're going to need to show potential funders a budget and a plan. And not just ANY budget. It's got to be specific, comprehensive AND accurate.
How much are you going to pay your crew?
What about travel expenses and gear rental?
Have you included a contingency plan? What about legal fees and insurance?
Do you pay yourself a salary? And if so, how much?
If you don't have experience with film budgets or documentary filmmaking, it's very easy to overlook key budget items and severely underbudget (or overbudget) your project. And funders can spot an amateur budget from a mile away.
What If...

you could have an award-winning documentary filmmaker...

...someone who has won hundreds of thousands of dollars in grant funding PLUS reviews dozens of proposals and budgets as a judge for a film grant...

...take you step by step through the entire budgeting process and show you exactly what to include?
About This Course
The Documentary Budgeting Masterclass is a multi-part video series which takes you through the entire process of professional documentary budgeting.

You will learn:
What to include (and not include) in your budget

How to format your budget to industry standards

Whether or not to pay yourself and if so, how much.

What funders are looking for in your budget that gives them the confidence to fund your project

The THREE things that will make or break your budget funding proposal

Line by Line, what to put in each section (and why it's important)

Industry practices for the best ways to negotiate with your crew

The key items that separate an amateur budget from a professional budget
By the end of this class you will be able to create professional budgets that will help you win the funding your projects deserve.
A Note From The Instructor
Welcome! 
The great thing about this Masterclass is that it is FULL of detailed information and short-cuts that I've gathered over my 30 years making films.
When my husband and I first started applying for documentary grants at the beginning of our filmmaking careers, we were clueless. We didn't win ONE grant.
But once we began to learn how films are really put together and what they cost, we started to hone our skills.
In just one grant application cycle, we went from being total NOBODIES to receiving a $240,000 funding deal from ITVS in one fell swoop! I knew my life would be forever changed. And it certainly has been. Our first documentary feature HOMELAND went on to a National PBS broadcast and paved the way for subsequent award-winning films and further major funding.
Do you know why HOMELAND was our turning point from working for others to working for ourselves? It's because we had taken the time to learn how to create an irresistible funding package, which included a solid, realistic budget.
Years later, the tables have turned and I now see this first hand as a judge for a prestigious film grant. If a filmmaker has a great story, but an unrealistic budget, we usually pass on their project. 
The filmmakers that have done their homework are the ones who get the funding! They have given us the confidence that they will finish their project on time and on budget.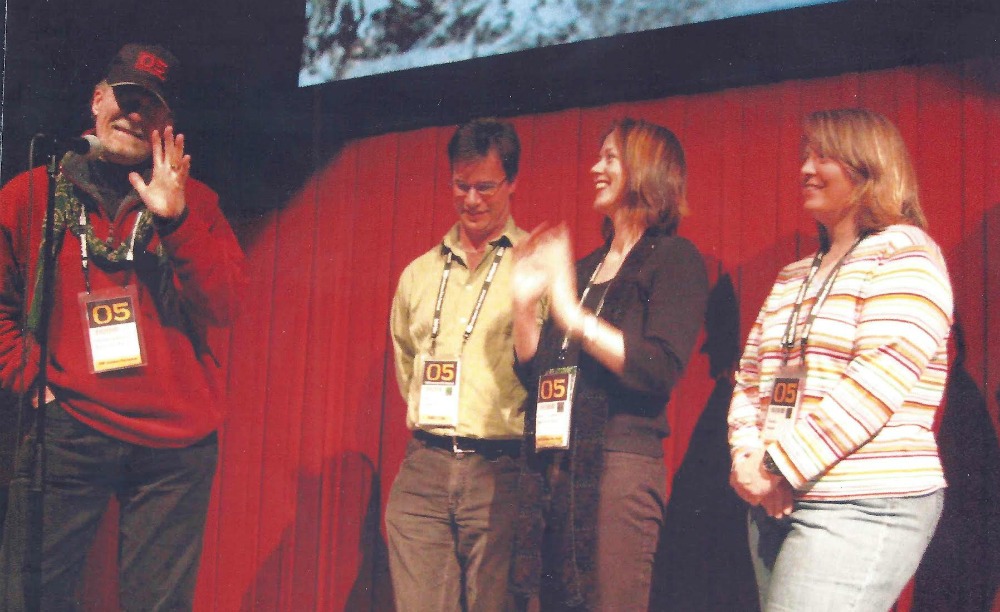 The instructor, Jilann Spitzmiller (center), at the Sundance Film Festival for her documentary SHAKESPEARE BEHIND BARS
Making a budget is NOT just about plugging in numbers. 
It's about deep producing experience. 
It's about the subtle and sophisticated judgments that come into play when you are thinking through your shooting scenarios and post production needs and translating those into projected costs. 
It's about understanding where you want your project to go and who is going to see it. 
It's about knowing where you can go lean and where you need to pad. 
It's about anticipating trouble spots and having confidence in your production plan. 
It's about having true and varied experience in the field.
Your documentary budget not only keeps your project organized and on schedule, but keeps the funding flowing. 
That's why Jilann's budgeting tools are SO good. She has poured 30 years of documentary producing knowledge into this Budgeting Masterclass. You will get the benefit of all of that experience and judgment, not just a dry run-down of the numbers. 
Jilann has produced every kind of documentary project – from feature docs, television episodic docs, digital interactive docs, short promo docs, branded doc content, doc-based music videos and much more. Her clients include PBS, Discovery, BBC, NBC, Sundance Channel and many more world-wide. She's lived all of those budgets in real-life – when numbers become shots and shots become stories. And she has helped countless filmmakers ready their budgets for funding and production. 
"Just what I needed!"
by Sally Schaffer
"This was so comprehensive and spoken like one producer to another. I felt like I was on a video chat with Jilann! And coming from the TV commercial world, this being my first documentary budgeting experience I learned so much (especially about Post Production). This was just what I needed!"
"Solid and Dependable"
by Leigh Anne Lindsey/Sea Storm Studios
"The way Jilann presents herself and the information she shares, she's very solid and dependable."
"Time-saver!"
by Anita Sugimura/Documentary Filmmaker
"I absolutely love the budgeting package!!!! Sometimes we do not realize we need something until it drops in our lap. Such a time-saver!"
"Concise, To The Point"
Stephen Thomas King/Documentary Filmmaker
"Jilann's explanations were concise, to the point and interesting. Her experience with film budgets is very helpful in understanding the various intricacies of the whole process of putting together a documentary package for investors."
"I'm really grateful for these courses [budgeting/fundraising], they've been a huge help. Jillan has a genuine teaching style that makes me feel comfortable with the material provided. I feel much more confident in paying myself and that I really do have the basis of beginning my first feature length documentary project."
How You Benefit From This Course
Puts you on the fast track for funding and winning grants.

Teaches you the essentials of how to make a full time living as a documentary filmmaker.

Saves you years of trial and error.

Gives you an edge over your competition.

Gain access to 30+ years of experience from an industry professional.

Learn line by line exactly what goes into a budget

Learn whether or not to give yourself a salary and, if so, how much.

Helps you organize your project costs as you go through production.

You'll have a professional industry-standard budget by the end of this class!
A series of 11 in-depth video tutorials detail the complete budgeting process, no matter the size or scope of the project. 
By the end of this class you will be able to create professional industry-standard budgets that will help you WIN grants/funding and support for your projects. 
As soon as you purchase the course, you'll have INSTANT access to the material located inside a professional course platform designed for enhanced learning.
We hope you will find the Documentary Budgeting Masterclass extremely useful. As our promise to you, there is a 30-day money back guarantee if you are not completely satisfied.

The only thing we require is that you honestly apply the lessons taught in the course to your documentary project. And if you still feel your budgeting skills aren't significantly improved, just e-mail us your original receipt and your purchase will be refunded. There is absolutely no risk.
Documentary Producer-Director

Jilann Spitzmiller
Jilann Spitzmiller is an award-winning documentary filmmaker whose work has appeared on the BBC, Sundance Channel, Starz/Encore, Aljazeera, PBS, Canal+ and many other channels worldwide. Spitzmiller is a 3-time recipient of ITVS funding and has twice received Sundance Institute funding. She has been a Sundance Institute fellow and a mentor at NALIP's Producer's Lab, as well as a guest panelist and teacher at many festivals and workshops. Her work has won more than 20 awards and has been shown around the globe. Her documentary SHAKESPEARE BEHIND BARS premiered in competition at the Sundance Film Festival and has become a cult classic. She is co-founder of DocuMentors and is deeply committed to helping filmmakers world-wide have the most impact that they can by telling their best story possible.
Book A Consult With Jilann
.
Email
Let's Get Started!
Any film professional will tell you that having a solid budget can mean the difference between zero funding and a $100,000 or even $1-million grant.

Your investment in this class could potentially pay off a hundred or a thousand fold! Don't let an unprofessional budget sabotage all your hard work.

Go ahead and click the red enrollment button and let's help you supercharge your budgeting skills!

Lifetime Access Pass:
$97 $48.50
"Lifesaver"
"WHAT. A. LIFESAVER. Jilann's class was uber-organized and her tips truly time-saving. Moreover, I know that I can reach out to Jilann for feedback on our budget when I'm ready. To me, even if that service costs extra, I haven't found a better deal. I'm very grateful for this resource & will be sure to recommend it to others."
"Easy To Follow"
"It's concise, straight-to-the point and easy to follow."
"Worthy Purchase"
"The Master Budgeting Class is a worthy purchase that's very economical because all the years of experience that Jilann earned from her own school of hard knocks are avoided by us newbies. Awesome class. It was easy to follow and very informative. Thank you!!! Plus, I also liked Jilann's steady, clear, precise and rich voiceover. Thank goodness because fundraising is the whoa!!! part of taking on our own challenging/adventure."
"Effective Overview"
"Effective overview of budgeting process with relevant points of references. Budgeting is a required ability and this course helps to solidify foundation knowledge. Thank you."
"Possibly the best online course I've ever taken..."
"What I liked most was that the course covered everything I needed to know. And I mean everything! The information was clearly given and given at a manageable pace. It was quite possibly the best online course I have ever taken!"
Supercharge Your Budgeting Skills
Learn how to create a professional and accurate budgets that win funding.

Documentary Budgeting Masterclass with Jilann Spitzmiller

Lifetime Access Pass:
$97 $48.50
"Possibly the best online course I've ever taken..."
"What I liked most was that the course covered everything I needed to know. And I mean everything! The information was clearly given and given at a manageable pace. It was quite possibly the best online course I have ever taken!"
- Rob Bettis